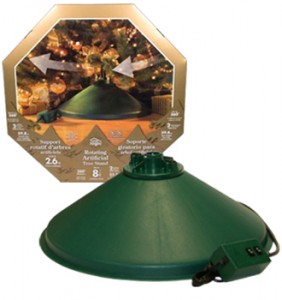 Each year as collectors begin decorating for Christmas, Celebrate365 subscribers share tips and recommendations. Since our subscribers are serious about about displaying glass ornaments to their best advantage, we will be sharing their tricks and tips for creating dazzling holiday trees and displays.
First up for discussion —
Why would I want a rotating tree stand?
What is the best stand?
Where can I buy it?
Why would I want a rotating tree stand?
If you love ornaments, it does not take long for you to collect more that you can possibly fit onto one tree. Not everyone has the space or the energy to decorate multiple trees. A rotating stand allows you to make the most of the tree that you have. It allows you to decorating every inch of the tree!
A Magical Display
Besides being a practical solution to using your space to its best advantage, placing your tree in a rotating stand creates a magical display in your home. Remember those animated department store windows that mesmorized you as a child? A rotating stand allows you to bring that sense of enchantment into your own home. Visitors to your home might just pull up a chair in front of the tree and watch the ornaments as the slowing pass by!
What is the best stand?
Celebrate365 readers and Glass Links discussion group members overwhelming recommend the EZ Rotating tree stand. I personally own three of them that have been in operation for at least ten years. I have never had a problem and I'm sure that I exceed the manufacturer recommendation as far as "weight" is concerned. Readers share similar stories. H M S MFG currently produces the EZ Rotating stand.
Home Logic Rotating 8′ Artificial Christmas Tree Stand
Product Description
The base is made of a heavy, durable plastic that can securely rotate up to 150 lbs. of artificial Christmas tree. The base also has two outlets to keep lights from getting tangled. It also is perfect for stringing lights or garland. Just stand in one place, turn on the rotating stand and let the Rotating Tree Stand do the work!
Holds trees up to 8.5′ tall with maximum weight of 150 lbs
Separate On/Off Switch for lights & rotation
Rotates 360 degrees
Light sets & plugs never tangle
Use up to 2,000 mini lights
Patented collar design automatically centers tree
Holds tree poles up to 1.25″ Diameter
23.25″ base prevents tipping for ultra-stability
Two sets of precision bearings support the weight of both the tree and decorations
Bidirectional clutch protects the motor mechanism if tree is obstructed or forced either forward or backward
If rotation is obstructed, a warning click sounds
Two electrical receptacles turn with stand, so lights turn, too — light strings never tangle
Circuit breaker, just push to reset
Rated for 8 Amps/120 Volts/960 Watts
Manufacturer: H M S MFG
Other products by H M S
Model number: 111
UPC Code: 025947010110
ID/SKU: 0072838
Available at:
Read more about Rotating Stands at About.com with Barbara Crews
And, a picture is worth 1,000 words! Watch the manufacturer video on You Tube.