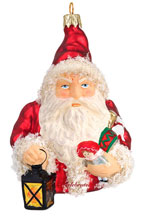 You love his folk art … now you can collect his glass ornament!
Scott Smith (Rucus Studio) has collaborated with Artistry of Poland to create a glass ornament based upon his full figure German Santa candy containers.
The 5″ moulded glass ornament is finished in red satin paint.  The Polish carver has certainly captured the essence of Santa's stern face!  Santa's face is painted with a porcelain-bisque like finish that brings the character to life.  He bears an arm load of holiday toys and a tradition German-style lantern to guide his way from house to house.
Scott's artwork shows Santa wearing a flannel robe with fluffy wool trim.  Note the special "glitter" on the coat & hat that recreate the look of Scott's concept.
This ornament just arrived from Poland last week.
If you love folk art and ornaments, you'll want the Rucus Studio "Traditional Santa" for your Christmas tree.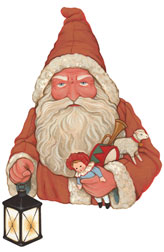 Available in the Celebrate365 online store for $54.
Enjoy free shipping when ordering this ornament on Sept 22 and 23.