On Sunday, we road MARTA in to AmericasMart Atlanta. It was a tad bit chilly outside waiting for the train but it was a lot better than trying to deal with icy roads and trying to find parking. Benita stayed back with our hosts Mark & Margaret Feit to help prepare for the annual Celebrate365 reception that would be held in their beautiful home later that evening.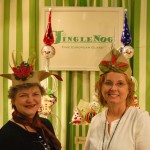 Our first stop was in the West Wing Gourmet temporaries. Connie looked for a cup of coffee and I found sipping chocolate. Wow, is that stuff rich! Next stop was the High Design temporaries, Connie was gathering ideas and also stopped off at Glory B Hats.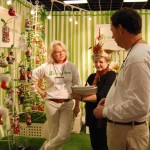 She found out that they were doing another give away, so we headed off to get our free hats.
With hats on head, we were off to JingleNog – Connie had work to do there.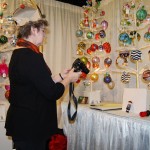 Connie had to finish up at Thomas Glenn, so off we went. I left her to finish up her work there to grab a cup of coffee. While waiting in line for my coffee I was inundated with questions about the hat I was wearing. Since I had become a walking display for Glory B Hats, I figured I should at least be able to give people a bit more info about them, so I headed off to their display to see if I could grab a few business cards to hand out.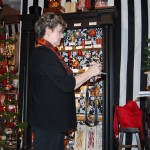 After we finished up at Thomas Glenn, we grabbed a bite to eat in the Press Room, then headed off to the Eric Cortina showroom. I could not take my eyes off the Christmas Candy ornament – a clear glass apothecary jar filled with blown glass candy – amazing!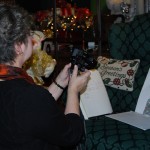 Next stop – Klassics By Kurtis where we got a peek at the tribute piece to the "Gloved One" – a glove covered in silver sequins and a "Big Boy" ornament that sparked a conversation into the history of the "Big Boy" restaurants.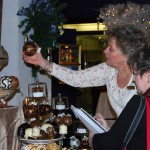 Off to Inge-Glas, where we got the complete tour of the showroom. Look at those chocolates – good enough to eat! Continuing on to see the amazing artisanship and detail, but I don't want to spoil anything that Connie will be writing about her visit to their showroom.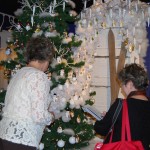 It was time for us to gather up our belonging and head to the MARTA station because their was still a party to throw that evening.
This has been the second of three guest posts by Leslie Kirk.