Hot Pink Camo and Christmas Camo are both sold out BUT Thomas Glenn will produce them again in 2010.

I will be in Germany through December 13 and unable to ship until after my return.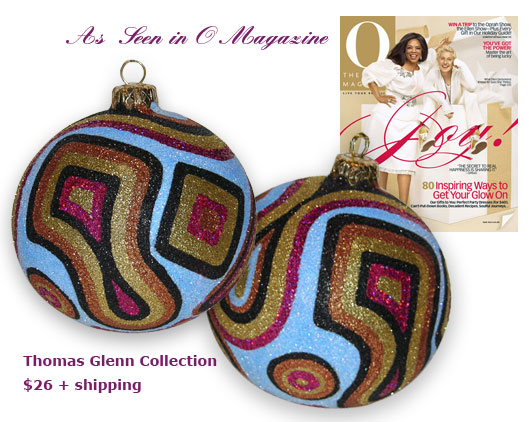 The artist Thomas Glenn puts his personal touch on every detail of his extraordinary product line. Each ornament begins with an inspiration and is sketched on paper to perfection. Upon completion of his design, Thomas creates a hand carved model for the master mold making process. Each ornament is then hand-made, one-by-one, under his direction in Europe. Thomas holds a Master Degree in Painting and he is one of the first trompe l'oeil artists. His extensive career in home decor has led him to develop his collection and to be named the"Haute Couture designer of Christmas". His ornaments have been featured on the Good Morning America show and in national publications including House and Garden and Domino magazines.
To visit the Thomas Glenn web site, please click here. In arrangement with Mr. Glenn, Celebrate365 may special order any ornaments collectors view on the designer's web site. Please use the contact tab above to inquire about placing a special order.
To view Thomas Glenn ornaments currently in stock, please click here.
Same great design!

Christmas Cammo blends shades of holiday green with vibrant sapphire blue, gold and red.

$26 from the Thomas Glenn Collection
Other Unique Designs from Thomas Glenn
Be bold! Reminiscent of Thomas Glenn's original canvases, this 120 mm ball shouts "Notice me!" The satin fuchsia ball pops with irregular rings of glittered color. It's a very contemporary design suitable for display as a work of art throughout the year.
With its metallics and jewel tones, Orange Blossom mixes traditional floral motifs with 21st century colors and technology. Traditional silver glitter defines the silver and blue flower designs. If you look closely, you spot the tiny gold micro beads that ornament the other areas of the overall pattern. It's a stunning addition to any collection.
The vibrant colors in this crazy quilt design will draw holiday visitors for a closer look. The individual "patchwork" scraps are edged with bright white glitter. Overall, the ball is finished with a light kiss of shimmery mica, guaranteed to reflect the tree lights. Enjoy this contemporary interpretation of an American classic.
Still Want More? Thomas Glenn Collection … Contemporary Optics