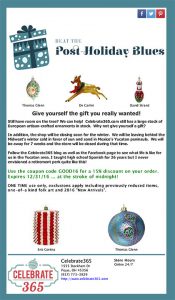 Give yourself the gift you really wanted!
Still have room on the tree? We can help!  Celebrate365.com still has a large stock of European artisan-crafted ornaments.  Why not give yourself a gift?
In addition, the shop will be closing soon for the winter.  We will be leaving behind the Midwest's winter cold in favor of sun and sand in Mexico's Yucatan peninsula.  We will be away for 7 weeks and the store will be closed during that time.
Follow this blog as well as the Celebrate365 Facebook page to see what life is like for us in the Yucatan area. I taught high school Spanish for 26 years but I never envisioned a retirement perk quite like this!
Use the coupon code GOOD16 for a 15% discount on your order. Expires 12/31/16 … at the stroke of midnight!
ONE TIME use only, exclusions apply including previously reduced items, one-of-a kind folk art and 2016 "New Arrivals".
Save
Save
Save
Save