Exclusive Ornament News for Patricia Breen Collectors
Peacock Green Chinoiserie Series Exclusive
To Be Sold By Lottery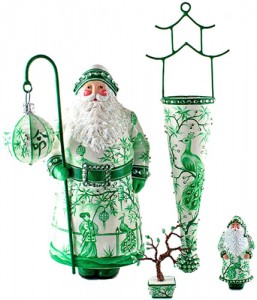 Stroke of Midnight $250
Pagoda Cornucopia $180
Miniature Santa Sculpture $160
Miniature Bonsai Sculpture $100
In order to be fair to everyone, we will conduct a lottery for those who are interested in the opportunity to purchase these magnificent pieces.
Please contact our Breen Specialist, Patty Beardsley at pattyred@ameritech.net or 866-746-0111.
Your names must be received by 5 pm central time on June 4th.
Please be sure to indicate if you are entering for all 4 pieces or clearly specify the ones that you are interested in.
Lottery will be held on June 4th after the store closes.