Just arrived and available online … 2015 Styles from Thomas Glenn Holidays
Year business began production:  2000
Country of production: Poland
Designer:  Thomas Glenn (deceased), Brent Lawyer
When contemporary artist Thomas Glenn created his first ornament collection in 2000, he infused it with ultramodern colors and graphics.  Chartreuse, magenta, turquoise, orange … Are those the colors of Christmas?  They are for Thomas Glenn Holidays!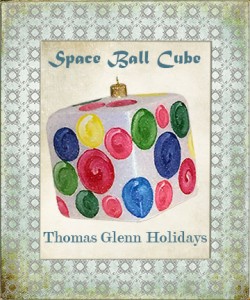 The Thomas Glenn collection has always been known for using a unique color palette, and I want to continue this and broaden the spectrum even further," explains Brent Lawyer, current company owner.  This year's collection includes traditionally colored "Pop Art"* in red, green and white.  But, that's where "tradition" ends.  You won't find a Christmas tree or Santa on this ball ornament.  It's fully glittered with circles and squiggles.  A sunburst-style graphic creates the central motif.  Lawyer also created a blue and green version of the design.
Lawyer also continues with Glenn's more "traditional" style designs as well.  Thomas Glenn collections always maintained a strong Asian theme.  This year's "Koi Pond" depicts these brilliantly colored ornamental Japanese fish as they placidly swim through still blue waters.
Collectors can delight in bringing Thomas Glenn works of art into their own home and onto their holiday trees and year-round displays with these exceptional European crafted ornaments.  Artistic vision continues in 2015.
—–
*Pop art is a movement that emerged in the mid-1950s in Britain and a few years later in the United States.  Artists like Andy Warhol and Roy Lichtenstein attempted to connect fine art traditions with pop culture elements from television, advertisements, films, and cartoons.
See moma.org/learn/moma_learning/themes/pop-art for more information and examples.