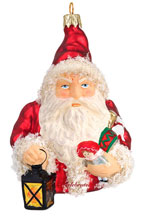 Scott Smith / Rucus Studio  Traditional Santa
for Artistry of Poland
Available from Celebrate365 at Saturday's event … along with all of Scott's Halloween glass ornaments.
Here's an update for this weekend's event:
Golden Glow Ohio "GLOhio" will be having our first Antique Christmas Meet this Saturday, April 13, 2013 at Apple Tree Gallery Antiques. The event begins at 10:00 am. Doors open at 9:30am.
LOCATION AND ADDRESS
Apple Tree is located at 405 N Main Street, Piqua, OH 45356. 937-773-1801 www.AppletreeGallery.com
DIRECTIONS
Piqua is located on Interstate 75 and is easily accessible by car. Approximate driving distance to Piqua are below:
Dayton 1/2 hour
Lima 1 hour
Cincinnati 1 1/2 hours
Toledo 2 hours
Indianapolis 2 hours
Cleveland 3 1/2 hours
From Interstate 75,
Take the US-36 exit, EXIT 82, toward Urbana/Piqua
Turn WEST (left when coming from the South) onto E Ash St/US-36 W.
Stay straight to go onto E Ash ST/OH-185
Take the 1st right onto N Main St.
405 N Main St is on the right (If you reach W. Greene Street, you've gone a little too far)
PARKING
Street parking is limited in front of the store. Public Parking is located behind the store building.
Free Public Parking is available off of Ash before you turn onto N Main St. There are parking lots on both sides of Ash directly across from each other. See the Map attached to the email. Parking is highlighted in blue on the map.
DIDN'T REGISTER?  – YOU CAN STILL PAY AT THE DOOR!
We have over 80 registrations for the event and expect another 40 to 50 people to pay at the door. You can still attend the event by paying $5.00 at the door. A boxed Lunch will NOT be available, but attached to the email is a map of local restaurants that are within walking distance of the store.
RESTAURANTS WITH-IN WALKING DISTANCE
Susie's Big Dipper (Ice Cream & Sandwiches) 323 North Main Street
Mulligan's Pub (Sports Bar) 110 W High St. (corner of High & Main)
Z's Food & Spirits (Sports Bar) 319 North Wayne St. (Corner of Wayne & Ash)
Michalo's (Pizza & Wings) 413 N. Main Street
Lighthouse Cafe 213 N Main Street
Beppo Uno Pizzeria & Tattoria 414 W. Water Street
Winan's Fine Chocolates and Coffees (dessert option) 122 W High Street
If you have any questions, just shoot me a contact using the tab at the top of this page.
I'm amid a big box & move-it project for the installation of wood floors on the first floor. And, I also need to begin preparing for the weekend show. I think that I will have two trees plus a full table … mixing antique, vintage and contemporary items. I'm planning to concentrate on "onsies" … things that just aren't worth the time to list them online. I have a number of signed folk art pins and things, single ornaments from my collection etc. For example, I have a huge rolling bin of "extras"that I don't think I've opened since about 2005! And, I have retail merchandise that has never made it online due to my extended illness. Look for lots of bargain pricing … I seriously need to downsize both personally and business-wise. Need a full size 7 ft pre-lit tree? Got one of those stored on the third floor of Apple Tree. I'll make you a real deal if you can haul it away on Saturday! LOL
I will be bringing things that cover all 4 seasons. In other words, 365 days of the year!  Hope to meet you in Piqua!
Connie