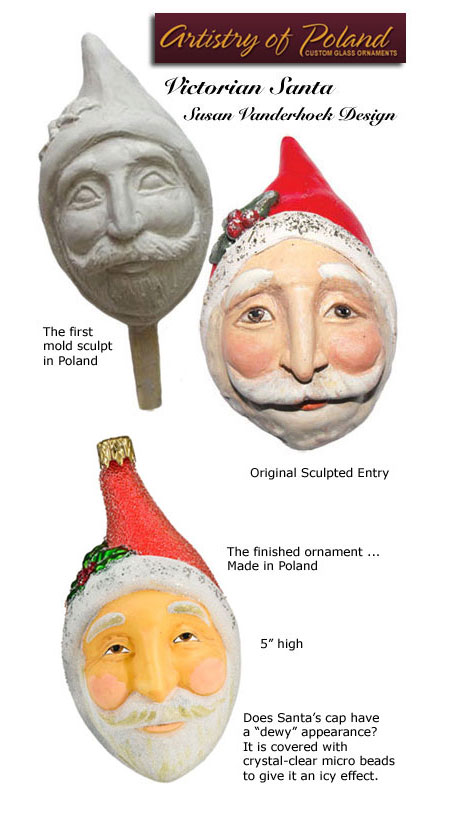 Susan Vanderhoek, folk artist and member of American Holiday Artists (aHa) is the winner of the 2009 Design Like a Star contest sponsored by Artistry of Poland and Celebrate365.
Susan's Design Like a Star Victorian Whimsy Santa is now available exclusively at the Celebrate365 store. The ornaments is 5″  high, handcrafted in Poland and retails for $54.  It will be a part of Artistry of Poland's 2010 collection.
Meet this talented artist as she talks with C365 publisher, Connie Porcher.
Susan Vanderhoek
Seasonal Whimsies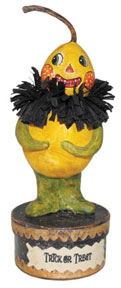 Do you sell your work directly to collectors?  If not, how can collectors find your things?
I sell directly to collectors through eBay at aHa Art (seller id seasonalwhimsies). I also accept orders and commissioned work.  In addition, my work is available at Spencer's Alley in Salem, Oregon and at Season's Greetings in Houston.
Will you be doing any holiday shows in November or December?
I will be selling items at Blackberry Junction in Albany, Oregon in November and at Spencer's Alley.
What kinds of things do you create?
I focus upon holidays.  I love everything about Christmas so I create ornaments, Santas and snowmen. Halloween is my second favorite. I enjoy creating fun and spooky things for the season, especially pumpkins and witches.
I work with large gourds and paper clay the most. I enjoy the entire sculpting process from beginning to the end. I am constantly amazed when everything falls into place to create a one of a kind piece.
How would you describe your style?
I think my style is light hearted and whimsical. I am influenced by antique German paper mache Santas and Halloween pieces. Hopefully my pieces spark the childlike wonder of those old things.
Do you have any formal training?
I have taken some art education classes. I take classes from other accomplished artists online.  I am interested in all kinds of art and plan to continue learning new techniques and methods.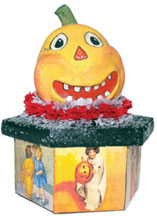 How long have you been doing this?
I have been sculpting for 9 years now.
What honors have you received?
I have been honored to appear in Celebrate365 magazine and recently won the Design Like a Star contest held by The Artistry of Poland and Celebrate365. The winning design is a sculpted Victorian Santa Claus ornament.