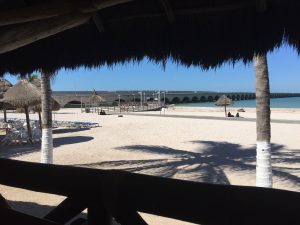 YES!  Celebrate365.com is open for business … but no shipping until mid-March.
This is our sixth year wintering in the Yucatán.  We are renting a beach home for seven weeks and are "living the life".  Temps have been in the mid-80s with sunshine nearly every day.
Slow roast chicken pieces in banana leaves & marinate in sour oranges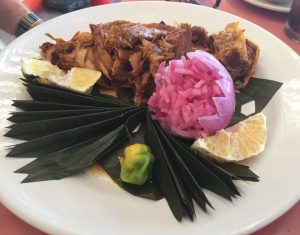 with achiote spices. It is a Yucatán speciality.  It is traditionally served with pickled onion.  Here is it presented with wedges of sour orange.  A hollowed onion serves as a serving vessel filled with the pickled onion bits.

Panuchos are a light snack or breakfast dish.  Another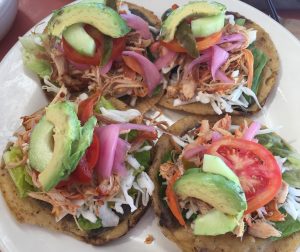 traditional Yucatán creation, these are tortilla filled with black beans. Then they are topped with fresh vegetables.  Here we have lettuce, cabbage, shredded turkey, tomato, pickled red onion, English cucumber, avocado.
Follow our lazy days on the beach … away from Ohio's cold and snow.  And look for previews of the 2017 lines in the coming days.  I am editing the web site to reflect current inventory levels and I am indicating styles that have been discontinued.  Feel free to ask me questions … I am "connected"!
Save
Save
Save
Save
Save
Save
Save
Save
Save
Save
Save
Save