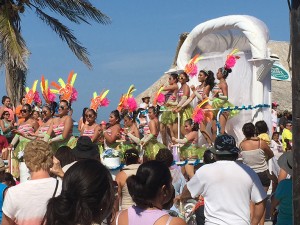 One of the perks of being a retired Spanish teacher is avoiding Ohio's frigid winter.  For the fifth time, my husband and I are heading south to the Progreso – Chicxulub coast of Yucatan, Mexico.  This year, we will be spending seven weeks enjoying sunshine, sand and hammocks!
Mother Nature seems to be having a little laugh at our expense this morning though.  Seems our 6:30 AM flight from Dayton to Detroit was delayed.  Delta has re-booked us later this morning through Atlanta and we are scheduled to arrive in Merida, the regional capital, just before midnight.  Keep your fingers crossed on our behalf!
This year, I have opted to leave the store open for browsing and pre-ordering.  BUT, be aware … the products are in Ohio while I'm on the beach in Mexico.  I will not be able to ship any orders until my return in mid-March.
Let the vacation begin!
Connie