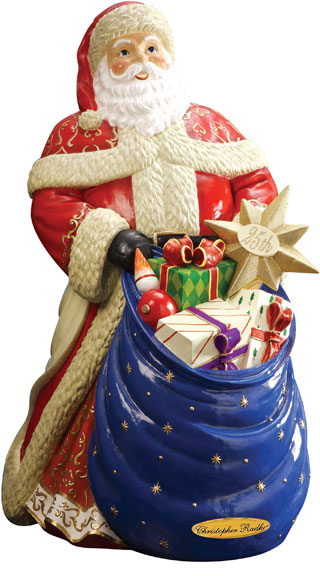 To mark the celebration of the company's 25th Anniversary, Christopher Radko will be holding a contest for the best Christmas tree in town!

Please submit photographs of your Christopher Radko® decorated tree along with a paragraph on what Christopher Radko and the holidays mean to you. The winner will be selected by the Christopher Radko Artists and will receive a free 25th Anniversary Oversized Sculpture. This statue depicts "Celebrating Santa" with a beautiful bag of gifts and the 25th Anniversary Star. It stands a whopping 54 inches tall and retails at $1,500.

Second place will receive 1 Santa each of our 25th Anniversary Santa Collection. Third place will receive our 25th Anniversary ornament, "Celebrating Santa."

So start decorating early this year as images need to be sent by December 15th!

Please see christopherradko.com for more details. Send no more than 4 low resolution JPEG images to newsletter@christopherradko.com.