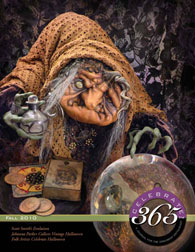 The Halloween issue of Celebrate365 is off to the printer tomorrow morning.  This is was created electronically in its entirety.  No proofs printer or sent, all digital images, pdf proofs … There's definitely a learning curve but we survived the new experience and I think we can continue.
The Halloween issue continues to outsell all the other seasons.  This year, Celebrate365 received submissions from 71 different artists, designers and manufacturers.  Talking about record-setting participation!  This just might be the best issue in our history … well you can tell us!
We anticipate shipping this issue during the last week of September.
Want to order a single copy?  No problem.  Please CLICK here!  You'll find a quick preview of what you'll read about in this upcoming issue!