Saturday, Dec 5
Today we spent an entire day exploring Stuttgart's Christmas Market. What more could I want! I must confess that I forgot the card reader to connect my camera to the laptop. Drats! I have a new phone with internet capabilities. As soon as I figure it out, I'll send some email photos for posting! Remember that many of our holiday traditions had their base in Germany. As we encounter them, I'll talk about some of them. And, of course, I'll talk about the kinds of purchases one can make at the Christmas Markets. While I don't think that I'll be purchasing many holiday items, I know that I'll be buying candy and other sweet treats as gifts for those who take such good care of me throughout the year. One of those special people is our neighbor Roger. He's the one who will be mailing out the Christmas Celebrate365 issues while I am researching holiday traditions here in Germany. That's one very special neighbor, if you ask me!
For those who wished, there was an excursion to the car-lovers' paradise at the entertaining and informative Mercedes Benz Museum in Stuttgart. I guess that there are things besides glitter!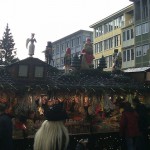 And remember, No orders shipped between December 3 – December 13.