Flamboyant, whimsical, abstract and timeless; these are the words that describe the mouth-blown character glass ornaments of Soffieria De Carlini. Treasured around the world, the De Carlini workshop near Milan has been producing unique and fanciful creations since 1947.
Indicators of the De Carlini commitment to excellence abound, such as their 10-year dominance as the principal manufacturer of Italian glass ornaments over the huge American market. The talented family was "discovered" in the early 1980s by Wally Bronner, of Bronner's Christmas Wonderland in Frankenmuth, Michigan. One of America's largest Christmas retailers, Bronner was captivated by the intricate hand painting of De Carlini's unique pear shaped ornaments, and he shrewdly decided to import them. An immediate success, the De Carlini reputation was about to grow quickly.
Always a family affair, the De Carlini business has maintained a strong artistic presence since the beginning. Using feathers, lace, ribbons, maribou and glitter to elaborately decorate their mouth-blown characters, they became famous for a unique look in a crowded ornament industry.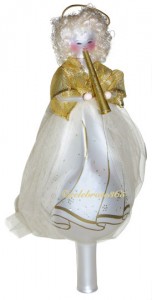 Today, Rosa De Carlini, her husband Guilio Terruzzi and son Luca run the family workshop.  The trio, as well as staff artisans, creates the fanciful figurals using traditional manufacturing techniques while also embracing 21st century technology. One of the best examples of this is their charming web site, designed to showcase their talents and offer exclusive styles directly to collectors.  Each design is limited to 200 pieces, is hand numbered and personally signed by Rosa De Carlini.
Highly collectible, the De Carlini ornaments produced over 55 years ago are as timeless as today's styles. The infamous Coco Chanel once said, "In order to be irreplaceable, one must always be different."  I think collectors everywhere would agree the De Carlini designs fit this to a tee!
— Susan McCann
The Celebrate365 online store offers a wide selection of free blown Italian ornaments from the De Carlini workshop.  Add at bit of whimsy to your Christmas tree!