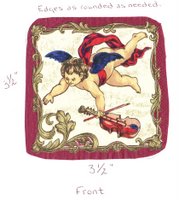 Artistry of Poland owners, Sue Myal and Sue Sprunk, along with last year's contest winner David Blair, have selected a winner in the 2008 Design Like a Star ornament contest. The judges have selected "Victorian Valentine" as this year's winner.
Kelly Ryan, a Celebrate365 subscriber from Minnesota, submitted the design concept. "I'm embarrassed to say my inspiration was a paper party napkin! I bought them years ago and just loved the little cherub so I saved one," Ryan explained. "I liked the rich colors and the elegant style so when the contest came about I dug out my box of stuff and found the napkin. I think it makes a beautiful Christmas ornament."

Artistry of Poland agreed! Myal and Sprunk based their selection upon their overall business plan. "Since we are always searching for the ultimate design to include in our collection it should have general appeal without giving in to the ordinary," Myal explained. "We also think about marketing," she continued. "Who will buy it? Where will we sell it? Has anyone ever inquired about a design like this"

Clay model of Ryan's design.
The clay model creates the 3-dimensional detail for the mold maker.